Last weekend, Ukrainian Islamic Cultural Centres through the combined effort of Ukrainian Muslimahs League wrapped up the World Hijab day with final themed events. "Bright", "interesting" and "momentous" are only a few of titles generously posted by guests of those events on social media, along with their headscarf-clad photos.
Muslimahs in Vinnytsia held their Hijab Day on Saturday, 8 February.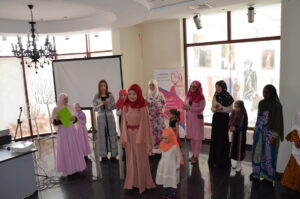 They dispelled stereotypes about "Muslimahs imprisoned in their homes and kitchens" by telling, in particular, about their own volunteering projects and holding a fashion show by Vinnytsia Muslim designer Nafisa Roziyeva. They also did headscarf styling for everyone interested, and treated the gathering with tea and sweets. To wrap up the ladies' party, they invited some men to perform a traditional Arab dance for them.
In Dnipro, Hijab Day was held on 9 February by the local women's organisation "Blagodiya". They also started with dispelling stereotypes that headscarf is for sure a means of oppression, and that a Musimah is only capable of unqualified work (in case she does have a job).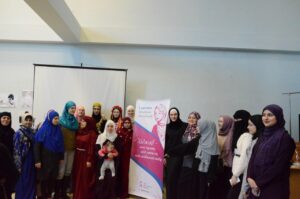 They spoke about successful Muslimahs from all walks of life, as well as of the religious background that makes modest clothing important for those women. The organizers also did a fashion show, demonstrating modest clothes of different styles, some with references to different ethnic backgrounds, and did a workshop on styling kerchiefs and headscarves. Besides treats, the guests were offered to participate in a quiz and win some presents.
Zaporizhzhia Muslimahs also held their Hijab Day on 9 February. They also spoke about the stereotypes and the importance of the concept of hijab (modest clothing) for female followers of Islam; mentioned successful Muslimahs; recalled some Ukrainian traditional headdress and different ways of its styling. Besides, this year's kicker was a performance recreating Henna Night, a Crimean Tatar bridal shower.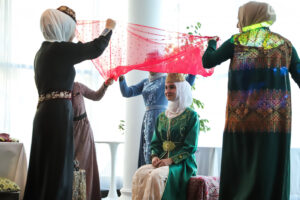 According to one of the organizers, Ms.Niyara Mamutova, that was their natural way to develop the last year's topic of wedding traditions of different regions of Ukraine (then represented by a ceremony of tying a kerchief over the newlywed woman's head during the wedding party. This time the guests learned about the wedding arrangements of Crimean Tatars: how the presents are delivered, how the bride is dressed while everyone is singing and telling stories, how the bride's arms are decorated with henna patterns and how she and her future mother-in-law greet each other in order to show their mutual respect.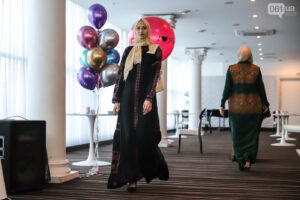 And, of course, treats were available not only for the performers of the Henna Night, but for the guests as well: tea, coffee and sweets were offered to everyone.