Ukrainian Muslimahs League is happy to announce that freshly printed copies  the first-ever Ukrainian children's book about Prophet Muhammad, peace and blessings be upon him, came from the publisher! It's emblematic that the publication is to be printed in the Month of Prophet Muhammad's (peace and blessings be upon him) birth.
This illustrated edition is meant for free distribution at RAMU Ummah mosques. Author of the book, Ms.Alina Martynova, is well-known to many of you as the author of the children's stories published in "Arraid" newspaper. Her family, originally from Donbas, became Internally displaced persons now residing in Lviv, and volunteering in her free time.
The idea of the book first came out two years ago. Having discussed it with the Head of the UML, Ms.Martynova got to work, and in 6 months the text was ready. The book tells the story of Prophet Muhammad, peace and blessings be upon him, in a way that makes it interesting for children of elementary-school age, explaining who the prophet had been as a person and as a Messenger of God, and why he had become the great example to follow for every generation of Muslims.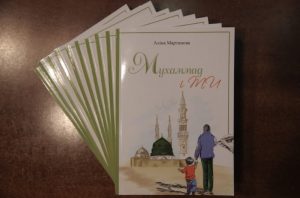 Ms.Tetiana Yushyna, an illustrator, read the text and was excited by its simplicity and clarity, so she made her input in the cause and did the illustrations.
By the way, it's e-book version will be for free download as well, so that little Ukrainian-speaking Muslims from all over the world can get a copy!