On 28 August, volunteers of Women's Social Organisation "Maryam" distributed school supplies they'd bought in terms of a charitable benefit "Ready for School!". Joint efforts of many people resulted in helping needy families from Kyiv, Zhovti Vody, Yahotyn, Sumy, and Zaporizhzhia, significantly easing their financial burden for three years in a row. Most of such aid is directed to grade-schoolers.


This year, unindifferent people once again didn't let those families down. One good-doer bought 45 schoolbags and spent another UAH 5,000 on office supplies; another brought UAH 2,000; another UAH 4,000 were donated by many to the charity's special bank account; someone from Rivne city sent a large box of office supplies — not to mention many people who also bought the office supplies they could afford and personally brought them to Kyiv ICC when attending the mosque.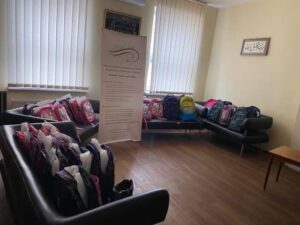 School bags filled with everything necessary have found their owners. We wish glorious academic records for the schoolchildren, and God's many blessings for the good-doers!