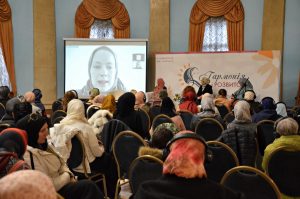 On October 30, the International Women's Forum, organized by Ukrainian Muslimahs' League, took place. It brought together government officials, heads of public organizations, and volunteers from all over the country.  The event was supposed to inspire, motivate and fill women volunteers with energy for active work in different Ukrainian cities.
"It's been so long since we've gathered like that – it's a great happiness that everything worked out. I hope this inspiration will last for a long time ", – participant Angela shares her impressions.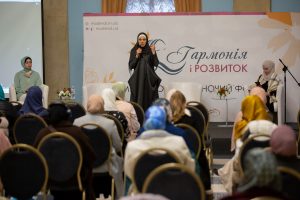 The forum was attended by Ukrainian Muslimahs  who succeeded despite all the problems and stereotypes in the society. The speakers were also successful sisters from other countries, such as Great Britain, Kuwait, and Indonesia, who work in the public sector.
The chief specialists of the department of cooperation with religious communities of the State Service of Ukraine for Ethnopolitics and Freedom of Conscience Vyacheslav Gorshkov and Victoria Kochubei also came to support Muslim women.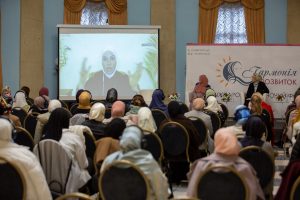 The head of the Dana Volunteer Association from Kuwait Manal Al Musallam talked about how to love volunteering and not get tired of what you do. Anife Kurtseitova, a head of the public organization "Crimean Family", inspired the participants by telling the story of the creation of a children's school, where they work for the sake of preserving the culture and traditions of the Crimean Tatars. Gayana Yuksel, a member of the Mejlis of the Crimean Tatar people,  recalled Crimean women who were left without men, and how difficult it is for them to carry the weight of upbringing and providing children with everything they need. The participants could take out something interesting and useful from each presentation.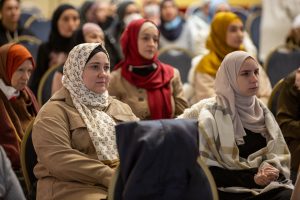 "In our society, when a Muslim woman faces misunderstanding and prejudice against herself every day, it can be difficult for her to set high goals. Often, fear prevents them from believing  that something can work out, and everything remains in dreams. At the forum speakers help women, first of all, to believe in themselves and that everything is possible, and there is always a way out of any problem. They themselves and their achievements are wonderful examples and an important experience for each of us, – says the chairman of the UML Niyara Mamutova.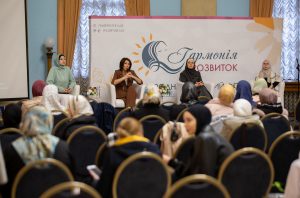 The forum was held in a mixed format, that is, some of the presentations were live, and some were online.
Also as part of the event, there were photo exhibitions "Dad in the Family" and "Hijab Is My Choice", as well as a fair of handicrafts from Ukrainian craftswomen, where you could buy toys, eco-bags and other goods. All money raised will go to the treatment of children with cancer.